Press Start to Continue DLC - Ep. 252: New Year, New Beginnings
1 year ago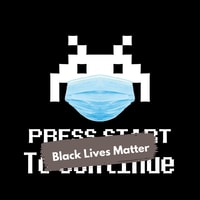 Its a new year, and even though last year was a dumpster fire we can still find good things to remember - like all the wonderful music released in 2020! Let's listen to some of the newest tracks I could download as we run head first into the new year!
The playlist is marked as follows:
Title by Artist – Album (Game)
<h5>Hour 1</h5>
Xerrox Salad/Memories of Memories (OC ReMix) by Michael Hudak (Conker's Bad Fur Day)
Great Success (OC ReMix) by Jamphibious (Shin Megami Tensei: Persona 4)
Rytlock's Super Critter Rave (OC ReMix) by Paper Coelacanth (Guild Wars 2)
We're All Falling (OC ReMix) by about:blank (Lemmings)
Small Steps (Just Breathe) (OC ReMix) by Emunator (Celeste)
Tactile Snowfall (OC ReMix) by Rexy (Sonic the Hedgehog)
Transcendent Discovery (OC ReMix) by RebeccaETripp feat. Nabeel Ansari (Final Fantasy 13)
Acting on Instinct (OC ReMix) by Mike Norvak (Command & Conquer)
Cyber Chrome (OC ReMix) by Kuro (Journey to Silius)
Past Meets Present (OC ReMix) by Tikaal (Pokémon Gold Version)
Feena's Premonition (OC ReMix) by Jorito (Ys III)
Hopes and Dreams by Fifth House Ensemble - Undertale LIVE
Deep Stone Lullaby Guitar Cover by GameCore
Featured Artists This Hour:
Fifth House Ensemble - undertalelive.com
GameCore - youtube.com/GameCoreMusic
<h5>Hour 2</h5>
Smooth Attempt by Secret Dog - Thumb. Middle. Ring.
Pose Ft. Alpha Riff by Symphonic Pheenix Force
TiTaNs oF NeRdCoRe by Ohm-I - Return of the Ohm
Fauci's Lament (Feat. LEX the Lexicon Artist and Shubzilla) by Coolzey
Mandy AKA If Meek Mill Wrote A Rap About Star Wars by Cutright - Dark Daze Jedi Knights
Screens (Feat. Lex the Lexicon Artist, Schaffer the Darklord, Kadesh Flow) by Super Smack
milk before cereal or cereal before the milk by FrivolousShara
Anime Trap Gods (Feat. ChrissaSJE, prod.Mtwentyxninteyniiine) by Otaku God
My Hero by Jason Rayn
GUTZ by GR3YS0N - Vibes From the 545
Vengeance by VeraFX - Jet Set Radio Revolution
Hansel & Gretel by Heath McNease - Notes, Volume 2
Lapidary by Ultraklystron
Plot Twist by Mark Cooper - The Lofibrary
Never Give Up by Kadesh Flow
Featured Artists This Hour:
Secret Dog - secretdog.bandcamp.com
Symphonic Pheenix Force - spfnerdcore.com
Ohm-I - mcohmi.com
Coolzey - coolzey.net
Cutright - open.spotify.com/artist/0Dt2s4Xri6vm6DfilZyjvQ
Super Smack - supersmackraps.com
FrivolousShara - frivolousshara.bandcamp.com
Otaku God - soundcloud.com/otakugod270
Jason Rayn - sptfy.com/jaysonrayn
GR3YS0N (Frm NyteXing,Maverick da Roninn) - gr3ys0n.bandcamp.com
VeraFX – verafx.bandcamp.com
Heath McNease – heathmcnease.bandcamp.com
Mark Cooper - reign.bandcamp.com
Ultraklystron – karlrolson.com
Kadesh Flow – kadeshflow.com
---
All songs marked "OCReMix" can be found at OverClocked ReMix (http://ocremix.org) – please show them some support! Download, donate, tell your friends!
Ending tune by KeyJayHD -  Check out more of his stuff at keyjayhd.bandcamp.com!
Since Press Start to Continue is every other week, check out Nerd Music Meltdown on our off weeks! Interviews with artists in the video game music and nerdcore communities: ongakuoverdrive.com/podcast
Like and follow and whatever the Press Start Socials: Twitter, Facebook, Twitch
Support Press Start to Continue DLC by donating to the tip jar: https://tips.pinecast.com/jar/PressStart
Send us your feedback online: pinecast.com/feedback/PressStart Press Start is now open to syndication!
If you would like Press Start to Continue to air on YOUR station, email [email protected]
This podcast is a member of the Planetside Podcast Network. Visit PlanetsidePodcasts.com to find other Planetside Productions!Flair